For more historical data, please look at the Club Archives page. For past Thursday walks, see the Thursday Walks page.
April 2018
Evening Meet co-ordinator – David Pendlebury
Sun/Mon 1-2 (Easter): Scotland (Mill Cottage Feshiebridge), Mary Reape
Sun 8: Roaches, Kathy Burgess
Tues 10: Lawrencefield, Fox House
Thurs 12: Photo Competition, [Ian Smith] Clubroom 8pm, Elen Rees & Dave Crowther
Sat 14: Cycling meet, Mary Reape
Sun 15: Agden Rocher, Campsite Crack, David Pendlebury
Sun 15: Plus Shutlingsloe walk, Ali Milne CANCELLED
Tues 17: Froggatt, Sunset Slab, Grouse Inn
Thurs 19: Clubroom Opening 8pm,
Fri 20: Awesome Walls New Members meet, Tina Wilkinson
Sun 22: New Members w'end Burbage Nth Sentinel Area, Tina Wilkinson
Tues 24: Stanage Flying Buttress, Norfolk Arms
Sat 28: New Members Instruction Day Stanage 9am, Geoff Nicholls/Pete Hammond
Sun 29: Wildcat, Lynx, Linda McLeish
March 2018
Thurs 1: Slide show (Andrew Milne) – 8pm, Vanda Boyd, POSTPONED to 8 March
Fri/Sat/Sun 2-4: North Wales, Lincs Mtn Club hut, Andrew Milne
Thurs 8: Slide show postponed from 1st March
Sun 11: Old Glossop Mountain bike/Yellowslacks walk, Bill Boley/Geoff Nichols
Thurs 15: Clubroom Climbing competition , 8pm, Pete Hammond
Sun 18: Dark Peak Scramble, Mary Reape
Sun 25: Stanage, Goliath's Groove, Andrew Milne
Fri/Sat 30-31 (Easter): Scotland (Mill Cottage Feshiebridge), Mary Reape.
February 2018
Thurs 1: Slide show (Andy Smith: Svalbard & Greenland) – 8pm, Vanda Boyd
Sun 4: White Peak walk, Dave Crowther
Sun 11: Roaches Mountain bike/ walk, Elen Rees/Vanda Boyd Walk Relocated
Thurs 15: Post Valentine's Mulled wine & music evening, Vanda Boyd
Sun 18: White Peak walk, 12 miles, Andrew & Ali Milne
Sun 25: Dark Peak walk, Kinder Scout, Sean Jennings
January 2018
Mon 1: New Year's Day walk, Hugh Dowling
Thurs 4: Slide show (Mark Proctor) – 8pm, Vanda Boyd
Sun 7: Dovestone Edge/Upper Derwent walk, Geoff Nichols
Sun 14: Dovedale walk, Mike Doyle
Thurs 18: Primus party, Geoff Nichols
Sun 21: Kinder walk, Gordon Riley CANCELLED
Sat/Sun 27-28: Lake District – Coniston, Paul Gibson
2017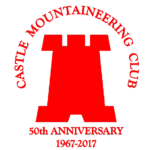 50th Anniversary of the founding of the Club – many celebratory activities through the year, including the 50th Anniversary Reunion and Celebration Weekend: 20-22 October 2017. These are listed on the Anniversary Calendar. The Castle (electronic version) is now available, thanks to Ian Barton.
50th Anniversary Challenges
December 2017
Fri /Sat/Sun 1-3: Christmas Meet, Settle, Andrew Milne
Fri 8 (NOTE DATE CHANGE): Slide show – 8pm, Vanda Boyd
Sun 10: White Peak walk, Linda McLeish CANCELLED
Thurs 14: Carol singing 7.30pm, Sean Jennings
Sun 17: Cycle ride, Mary Reape
Sat 23: Seasonal Stagger, Marian Birkett
November 2017
Thurs 2: Slide show (Mike Doyle) – 8pm, Vanda Boyd
Sun 5: Dark Peak walk, Paul Gibson
Sun 12: White Peak walk, Vanda Boyd
Sat 18: Ecton Mine, Elen Rees
Sun 19: Cycle ride, Ali Milne
THURS 23: AGM 7.30pm, Linda McLeish
Sun 26: Low Bradfield walk, Mike Doyle, Kathy Burgess & John Sellars
October 2017
Sun 1: Rivelin climb, Mary Reape – update
Thurs 5: Slide show (Chris Huxham) – 8pm, Vanda Boyd (clubroom cleanup 6.30pm)
Fri/Sat/Sun 6-8: Mid-Wales hut meet, David Pendlebury
Sun 8: Sunday walk, Roaches, Steve Warwick
Sun 15: Stanage Plantation, Geoff Nichols
Fri/Sat/Sun 20-22: 50th Anniversary Reunion and Celebration Weekend
Sun 29: Burbage South, last climbing meet 2017, Simon Marks
September 2017
Sun 3: Lawrencefield climb, Judith Morris / Walk PDBW Langsett to Bradfield, Ali Milne
Weds 6: Millstone, Fox House
Thurs 7: Cycle ride, Dave Crowther
Sun 10: Almscliffe climb, TBC
Tues 12: Lawrencefield, Fox House
Fri/Sat/Sun 15-17: Galloway, Scotland, Dave Crowther
Weds 20: Burbage North, Norfolk Arms
Sun 24: Wharnecliffe climb, Vanda Boyd
Tues 26: Yarncliffe, last evening meet 2017, Fox House
August 2017
Tues 1: Baslow Edge, Bridge Inn
Sun 6: Chew Valley climb, Hugh Dowling + Eyam walk, Frank & Jennifer Mellor
Weds 9: Chatsworth Edge, Robin Hood
Thurs 10: Mountain bike ride, Mary Reape
Sun 13: Stanage Mississippi area climb (Meet at popular end car park 9.30am) Geoff Nichols
Tues 15: Gardom's Edge, Wheatsheaf
Sun 20: Froggatt Edge climb, Paul Gibson
Tues 22: Carl Wark, Millstone Inn
Fri-Mon 25-28: Peak District Bank Holiday activities, Various
Weds 30: Stanage Popular End, Norfolk Arms
July 2017
Sat/Sun 1/2: Crowden camping/ climbing, Geoff Nichols + Northwest Peak walk, Andy & Rosy Smith
Tues 4: Burbage South, Fox House
Thurs 6: Book sale in the Clubroom 8.00pm
Sat/Sun 8/9: Snowdonia, Mike Doyle's 70th birthday meet, Mike Doyle.
Mon 10: Start of Cycling challenge week, Mary Reape
Mon 10: Derwent cycle ride. Marian Birkett
Weds 12: Clumber Park cycle, Steve Warwick
Weds 12: Birchen Edge, Robin Hood
Thurs 13: Cycle ride Lincoln to Sheffield (plus the Thursday walk as usual)
Thurs 13: Evening cycle ride, Mary Reape
Sat 15: Bike ride, Meet Monyash 10am, about 31 miles. Dick Murton
Sun 16: Start of Walking challenge week. Latest
Sun 16: Shining Clough, Simon Marks. CHANGED to Burbage North
Mon 17: Derwent Edge day walk. Mary Reape
Mon 17: Ramsley Reservoir evening walk. Elen Rees
Tues 18: Stanage Plantation, Norfolk Arms
Thurs 20: Thursday walk, Lin Warriss
Thurs 20: 18 mile Linear Walk, Linda McLeish
Sat 22: Southern Boundary walk, Elen Rees Latest
Sun 23: Start of Climbing Challenge week
Sun 23: Roaches climb, Bill Boley
Weds 26: Birchen Edge, Robin Hood
Sun 30: AM's 60 climbs – challenge week, Andrew Milne
June 2017
Thurs 1: Book sale in the Clubroom 8.00pm. Update
Sun 4: Bamford climb, Simon Marks + Circle round the Snake walk, Dave Crowther
Tues 6: Gardoms Edge, Peacock, Owler Bar
Sun 11: Castle Naze climb, Helen Jackson
Weds 14: Curbar Edge, Bridge Inn
Thurs 15: Evening cycle ride, Dave Jenkyns
Sun 18: Harborough Rocks climb, Helen Jackson
Tues 20: Stoney Middleton, Moon
Sat/ Sun 24/25: Yorkshire Dales camping, Ali Milne
Weds 28: Stanage Moscar, Ladybower Inn
May 2017
Mon 1: Bank Hol Anglesey camping, Leon Dowling
Weds 3: Stanage Popular End, Norfolk Arms
Thurs 4: Clubroom Clean up 8.00pm, Vanda Boyd. POSTPONED
Sat 6: Stanage – Skills for Rock Climbers 9.30am (Open Climbing Weekend), David Pendlebury/Geoff Nicols
Sun 7: Windgather Climb, Andrew Milne + Chinley/ Edale walk, Sean Jennings
Tues 9: Millstone Edge, Fox House
Fri 12: Awesome Walls 6pm (Open Climbing Weekend), David Pendlebury
Sun 14: Birchen Edge 10.30am (Open Climbing Weekend), David Pendlebury
Weds 17: Froggatt Edge, Grouse
Thurs 18: Evening cycle ride, Andrew Milne
Sun 21: Stanage Climbing, Mary Reape
Tues 23: Higgar Tor, Norfolk Arms
Sat/Sun/Mon 27/28/29: Bank Hol, Borrowdale, Lake District, Vanda Boyd
Weds 31 Rivelin Edge, Hollybush Inn
April 2017
Sun 2: It's a Rockout, Bill Boley; plus Roaches walk, Elen Rees
Tues 4: Burbage North climb, Norfolk Arms
Thurs 6: Slide Competition, Clubroom 8pm, Elen Rees
Sun 9: Lawrencefield climb, Linda McLeish
Tues 11: Yarncliffe climb, Fox House
Fri/Sat/Sun 14-16: (Easter) Muir of Inverey, Braemar, Scotland, Paul Gibson.
Weds19: Tegness Pinnacle climb, Grouse
Fri 21: Awesome Walls 6pm (Open Climbing Weekend), David Pendlebury
Sun 23: Stanage Edge 10.30am (Open Climbing Weekend), David Pendlebury
Sat/Sun 29/30: Bank Hol Anglesey camping, Leon Dowling
March 2017
Sun 5: Black Hill walk, Sean Jennings
Thurs 9: Slideshow, Clubroom 8pm [Andrew Milne], Vanda Boyd
Sun 12: North Kinder walk Dave Crowther
Thurs 16: Clubroom climbing wall competition, 8pm, Paul Gibson
Sun 19: Dark Peak Scramble, Geoff Nichols
Sat/Sun25/26: Brecon Beacons Hut, Mary Reape
February 2017
Thurs 2: Slideshow, Clubroom 8pm [Frank Mellor], Vanda Boyd
Sun 5: Bleaklow airplane wreck walk, Geoff Nichols
Sun 12: Dark Peak walk, Sean Jennings. CANCELLED!
Thurs 16: 'Photo editing' clubroom 8pm, Dave C
Sat 18: Mountain biking, Mary Reape
Sun 19: Goyt Valley walk, Ali Milne
Sat/Sun25/26: Mynydd CC hut, N. Wales, Andrew Milne
January 2017
Sun 1: New Year's Day Stagger 11am start, Paul Gibson
Thurs 5: Slideshow, Clubroom 8pm [Mark Proctor], Vanda Boyd
Sun 8: 5 Pits Trail cycle, Ali Milne
Tues 10: Committee Meeting 7.30 Clubroom, Linda McLeish
Friday 13: Moonlight walk 7pm start, Paul Gibson
Sun 15: Litton limestone walk, Andrew Milne
Thurs 19: 'Get the most from your camera' Clubroom 8pm, Dave Crowther
Sat 21: Mountain Bike ride, Bill Boley. Details
Sat/Sun 28-29: Patterdale. George Starkey Hut, Paul Gibson
December 2016
Thu 1: Slide show clubroom 8pm, Vanda Boyd
Fri/Sat/Sun 2-4 Dec: Xmas away meet and dinner Middleton-in-Teesdale Co Durham, Andrew Milne
Sat 10: Vanda's 70th birthday Ceilidh evening, Vanda Boyd
Sun 11: Vanda's short walk, Vanda Boyd
Thu 15: Carol singing in the clubroom, Sean Jennings
Sun 18: Seasonal Stagger, John Barnard
Sun 25: NO MEET
November 2016
Thu 3: Slide show clubroom 8pm, Vanda Boyd
Sun 6: Trail cycling, Dave Crowther
Sun 13: Special event: Guided walk with Bill Gordon, 10am, Sean Jennings
Sun 20: Dark Peak walk, Paul Gibson
Thu 24: AGM Clubroom 7.30m, Vanda Boyd
Sun 27: White Peak walk, Linda McLeish
October 2016
Sun 2: Gardoms Edge climb, Judith Morris
Thu 6: Slide show clubroom 8pm, Vanda Boyd
Sun 9: Secret Stanage climb, Geoff Nichols
Sat/Sun 15-16: Lowstern Hut, Clapham, Yorkshire Dales, Linda McLeish
Tue 18: Committee meeting 7.30 clubroom, Vanda Boyd
Thu 20: Clubroom Ropework evening, Geoff Nichols
Sun 23: Froggatt climb, Bill Boley + Walk, Sean Jennings
Sun 30: Last Summer climbing meet; Stanage Popular End, Paul Gibson
September 2016
Thu 1: Meal night and clubroom re-opening, Paul Gibson
Sun 4: Gardoms Edge climb, Simon Marks
Tue 6: Millstone Edge, Fox House
Sun 11: Stanage High Neb climb, Andrew Milne
Wed 14: Horseshoe Quarry, Moon Stoney Middleton
Thu 15: Cycle ride, Andrew Milne
Sat 17: Clubroom maintenance. Mike Doyle
Sun 18: Aldery Cliff climb, Helen Jackson + limestone walk, Mike Doyle
Tue 20: Bamford Edge, Bridge Inn
Sat/Sun 24/ 25 Borrowdale, Lake district camping, Pete Hammond 20 Sep note
Wed 28: Tegness, Grouse
August 2016
Tue 2: Stanage Plantation, Norfolk Arms
August 6/7: Wye Valley, Linda McLeish.
Wed 10: Curbar Edge, Bridge Inn
Sun 14: Froggatt climb Leon Dowling
Tue 16: Stoney Middleton, Garage Buttress, Moon, Stoney Middleton
Sun 21: Birchen Edge climb, John Hutchinson + Longnor walk, Frank Mellor.
Tue 23: Higgar Tor, Norfolk Arms
August Bank Holiday: Cornwall camping, Jez Martin / Mary Reape
Wed 31 Burbage South Edge, Fox House
July 2016
Sun 3: Stanage End, Simon Marks
Tue 5: Turning Stone Edge
Thu 7: Cycle ride, Andrew Milne
Sat 9: BBQ @ Bill & Elen's
Sun 10: Roaches climbing, Bill Boley
Wed 13: Baslow Edge, Yorkshire Bridge
Sun 17: Kinder South climb, David Pendlebury & Bleaklow walk, Andy Smith
Tue 19: Wharnecliffe climb, King and Miller
Thur 21: Cycle ride, Mike Doyle
Sat/Sun 23/24: North Wales camping, Mike Doyle
Wed 27: Lawrencefield, Fox House
Sun 31: Wildcat climbing, Linda McLeish
June 2016
Weds 1: Stanage Moscar End Ladybower Inn
Thurs 7: Cycle from clubroom, Dave Jenkyns
Sun 5: Laddow, Mary Reape
Tues 7: Curbar Edge Bridge Inn
Sun 12: Shining Clough climbing, Simon Marks & Cordwell Valley walk, Mike Doyle
Weds 15: Rivelin Edge Hollybush Inn
Thurs 16: Higgar Tor weaselling, Ali Milne
Sun 19: Agden Rocher climbing, Mary Reape
Tues 21: Bamford Edge Angler's Rest
Sat/Sun 25/26: Lake District camping, Vanda Boyd
Wed 29: Gardoms Edge, Apple Tree Buttress area
May 2016
Sun 1/ Mon 2: Bank Hol, Anglesey N. Wales camping, Leon Dowling
Weds 4: Millstone Edge Fox House
Thurs 5: Clubroom closed
Fri 6: Open climbing meet @ Awesome Walls, David Pendlebury
Sun 8: Open climbing meet @ Birchen Edge, David Pendlebury
Tues 10: Froggatt Edge Grouse
Sun 15: Stanage High Neb climb & Goyt Valley walk, Paul Gibson / Ali Milne
Weds 18: Gardom's Edge Pheasant Inn
Thurs 19: Lady Canning Plantation Mtn bike ride, Mike Doyle
Sun 22: Windgather, Judith Morris
Tues 24: Baslow Edge Bridge Inn
Sat/Sun/Mon 28/29/30: Bank Hol Scotland – Arran camping, Mary Reape
April 2016
Sun 3: Castle Naze climbing, Bill Boley
Tues 5: Carhead Rocks Norfolk Arms
Thurs 7: Pub Meal night, Vanda Boyd
Sat/Sun 9/10: Yorks Dales away meet, Ali Milne
Weds 13: Yarncliffe Fox House
Sat 16: 'Charles Knowles Lane' walk/cycle, Elen Rees
Sun 17: Harborough Rocks climb & Edale Skyline walk, Helen Jackson/ Steve Warwick
Tues 19: Burbage North Norfolk Arms
Thurs 21: Committee Meeting, 7.30pm Clubroom
Fri 22: Open climbing meet @ Awesome Walls, David Pendlebury
Sun 24: Open climbing meet @ Stanage Popular End, David Pendlebury
Weds 27: Lawrencefield Fox House
March 2016
Thurs 3: Annual photographic competition, Clubroom 8pm, Helen Jackson
Sat 5 / Sun 6: JB's Big Birthday Bash Ceilidh/possible Sunday walk
Thurs 10: Memorial walk 11 am start Dave, Crowther
Sun 13: Macclesfield Forest Mtn Bike ride, Bill Boley
Thurs 17: Film night,Clubroom 8pm, Vanda Boyd
Sun 20: Navigation Walk, Marian Birkett
Sun 27: Easter Sunday walk, South Head /Mount Famine, Sean Jennings
Mon 28: Easter Egg Rockout climb, Andrew Milne
February 2016
Thurs 4: Slide show, Clubroom 8pm, Vanda Boyd
Sun 7: Bamford Edge walk, Andrew Milne
Sun 14: Dark Peak walk, Sean Jennings
Thurs 18: Auction Night, Clubroom 8pm, Paul Gibson
February 20-21: Lake District, George Starkey Hut, Patterdale, Paul Gibson
Sun 28: Mountain bike ride, Mary Reape
January 2016
Dec 31- Jan 3: Lake District, Denton House Hostel, Keswick, Dave Crowther
Thurs 7: Slide show, Clubroom 8pm, Vanda Boyd
Sun 10: On road cycle, Mary Reape
Sun 17: Eyam walk, Mike Doyle
Thurs 21: Film Night, Clubroom 8pm
January 22-23: North Wales, Helyg Hut, Andrew Milne
Sun 31: Limestone Dales walk, Helen Jackson
October 2011
Thurs 13: Patrick Peace's Funeral