2017: The Castle's 50th Anniversary Year
The Club was founded in 1967 and to celebrate the 50th anniversary year in  2017, a number of special events and activities are being held.
Sheffield Star article, 19 May 2017
BMC Clubs News 6 July 2017
A grand anniversary reunion and dinner was held on the 21st of October 2017 at the Sickleholme Golf Club, Bamford Derbyshire. See the announcement by the President. The dinner was part of a
with events throughout the weekend.

Ian Barton has produced the electronic version of the book marking the first 21 years of the Club.
2017 Calendar
Judith Morris has organised this and it is now available to purchase from Mary Reape or Mike Doyle. Thanks, Judith.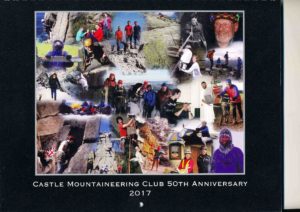 David Pendlebury is assembling a club photographic record with photos for each of the 50 years of our history. If you have any suitable photos please get in touch – He can arrange for slides or photos to be scanned if required.
The T-shirts polo shirts and sweatshirts which have been ordered are now available.
Other activities:
Ski Week: January/February, Vanda Boyd.
Spain Week; Feb 11th. Climbing/walking/relaxing, Linda McLeish.
50th Anniversary Challenge Week, July 10th -30th.
Alps trip  Paul Gibson.
Kalymnos, Greek climbing week; Oct 25th, contact Linda McLeish.