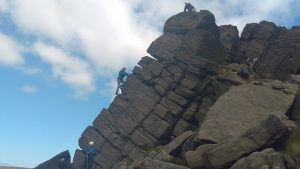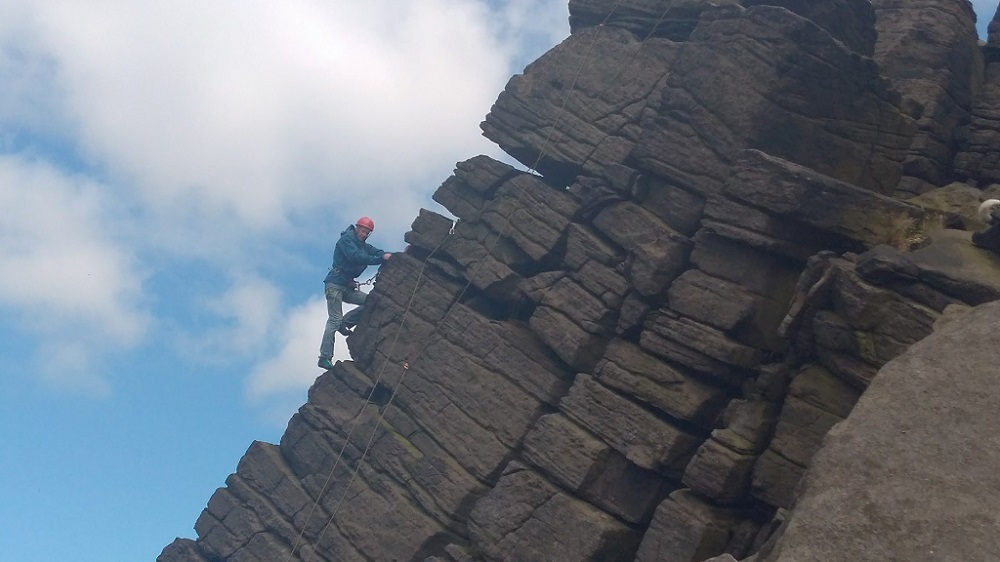 Saturday – John, Kate, Hugh and Geoff did Coombes Clough scramble in the morning, which had a few entertaining waterfalls. It passed by Millstone Buttress where we looked at the 2 star v.diff – and decided it probably had not been climbed since one of us had last visited, in 1991. Back to the campsite, then up to Laddow in the sun for a couple of routes. Laddow's loss in popularity since the first World War has accelerated fast. There is no worn path at the bottom now. Long Climb, 3star HVD, was polished, but with lichen in the cracks. North climb was very green. We finished just as drizzle came in. Meanwhile Bill, Ellen and Mary had done Oaken Clough.
Sunday – Joined by Ben, we went to Rollick Stones, on the S Edge of Bleaklow. It's in the 'Over the Moors' guide, but not in 'Western Grit'. The recommended access via Wildboar Clough had no discernible path, and involved climbing two recently reinforced barbed wire fences. The crag is in a beautiful position looking right down Londendale and we had fine weather. We put the crackle of clay pigeon shooting to the back of our mind – although these bits of clay and shot have to come to earth somewhere. We did routes on Rollick Tower, one of which got close to the guide description of 'gorgeousness'. We then spilt between Rollick Stones Left – where Ben and Geoff found 4 more routes; and Johnny Rollicks Area. We descended using the approach to Deer Knowl, further East, which was a better track.
Crowden camp site was a good base for a weekend, giving a lot of options; including exploring places new to all of us. It was handy to have a campervan to get out of midges and rain in the evening.
An increase in climbing has coincided with a decline in use of crags such as Laddow; as the 'long walk in' has been redefined as the distance from the car park to the wall. This reflects a redefinition of the sport as a whole. 'Over the Moors' is a great guide book; a labour of love which exudes enthusiasm for remote crags and wild places. However it is likely that only the most popular routes and crags will get regular traffic, if any, and this has accelerated the decline of the others. Maybe clubs could make the effort to visit some of these with a wire brush and a trowel to make them more attractive – once you get there. Another retirement project for some of us?
Stanage meet 13th August: diverted to Mississippi area. Meet at popular end car park 9.30 [to make sure you can get a parking slot].